ITIL® 4 Foundation Certification Training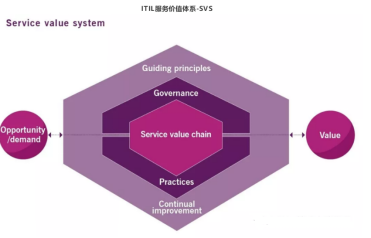 1.0 Course Introduction
ITIL 4 was first launched on February 28, 2019 around the world. In its new version, it proposes four dimensions of service management and introduces service value system to guide the service management and operation of enterprises. Furthermore, ITIL 4 has integrated management concepts including agility, excellence, development, operation and maintenance based on former theories, it also provides the business value of services through five components including guiding principles, IT governance, service value chain, service management practices and continual improvement, becoming the well-structured and comprehensive framework of service management of all time. ITIL certification represents the preferred qualification in service management, in addition, both managers and technical personnel engaged in IT service work, can not only understand the overall theory of service management through learning, but also get inspiration and benefits from three different types of management practice in learning, making them get double results with half the effort and be improved on the path of IT career.
2.0 Training Contents:
2.1 Training Objects
1. CIO, IT operation managers, IT service managers and data center managers;
2. Middle senior managers of enterprises and directors of information center;
3. IT operation and maintenance personnel and IT supervisors with more than two years' experience;
4. IT project managers, IT consultant and directors of software / system development;
2.2 Training Objectives
1. Understand accurately the core concepts of IT management, service, IT service management, excellent IT operation, ITIL, etc;
2. Understand ITIL4 architecture, focus on service value system and 4 dimensions of service management;
3. Master common management practices and understand how to provide service value;
4. Master IT service value chain and value flow;
5. Learn how to use ITIL to improve the existing service management;
2.3 Training Form
The training of this module adopts open courses or internal training; the open courses are provided by our company with places projector, whiteboard and other necessary facilities, while the internal training is in the charge of Party A, and the trainees need not equip with computers.
There are concept explanation and interactive discussion in management training, so it is suggested that less than 15 people attend it to ensure the training effect.
2.4 Training Materials
1. Handouts and case study materials developed for this course (printed version);
2. If there is an examination arrangement for this training, participants shall be confirmed within 10 working days in advance according to relevant regulations;
2.5 Training Arrangement:
Training Agenda: 2 days (29-30 May 2021 )

Schedule

Training contents

Day 1

Morning

Introduction to IT service management concept:

Service value:

Guiding principle:

Afternoon

4 dimensions of service management:

Service value system:

Value chain activities:

Day 2

Morning

Review day one:

The relationship among the components of service value system.

General management practices:

Service and technology management practices:

Afternoon

Service management practices:

Course review and Q&A:

Examination
3.0 Introduction to Lecturer: Mr. Cheng
1. Training lecturer of ITIL Expert authorized by PeopleCert
2. Training lecturer of ISO20000 auditor authorized by APMG
3. Training lecturer of COBIT5 Foundation authorized by APMG
4. Training lecturer of CISA (Certified Information System Auditor) authorized by ISACA
5. Training lecturer of DevOps Fundamental authorized by DASA (DevOps Agile Skills Association).
6. Architecture designer of Operation and Maintenance Legend of sandbox simulation practice in IT service management
With the software technology background and more than 10 years' IT management consulting experience, Mr./Ms. Cheng's clients are from all fields and industries, and he/she knows the confusion of managers in the process of technology transformation by his own experience from technology to management. As he has more than 15 years of training and teaching experience, her expression is clear, humorous and easy to understand, following with rich and vivid case materials, professional argumentation and plain analogy, as well as the combination of management theory and work practice, which has earned him good comments from customers.
4.0 Training Cost:
6000 Yuan/Person (For Training + Examination)