(Business Analysis) = Why to Do+ What to Do
This is a more profound and colorful process than demand analysis and demand management
1. Demand analysis and demand management skills = Do thing right Business analysis skills = Do right thing;
2. Business analysis helps you reveal business needs and bring you a brand new perspective and thinking mode;
3. Business analysis skills can improve the skills of creating effective solutions to help projects deliver the expected business value.
PMI-PBA Certification
Recognize the competence of professionals in the field of business analysis;
The professional ability of using these tools and techniques to improve the overall success rate of the project;
Have a high professional reputation to help professionals meet the demands of the employer.
As of June 2017, the number of PMPs awarded in Chinese mainland has exceeded 180,000, and it is expected that business analysts will be the qualification demonstration of promising professional elites in the future.
According to statistics from U.S. Bureau of Labor, jobs for "business analysis" are expected to increase by 19% in 2022.
PMI-PBA Certification Value:
1. Macro level: jump out of oneself to observe the problems.
2. Medium level: face up to the problems based on oneself.
3. Micro level: in-depth analysis of problems by oneself.
PMI-PBA Certification Object:
1.Agile team members, business architects, business process analysts, business subject experts
2.Data, function, operation, system or user experience analysts
3.Business analysts, product managers or product owners, project managers
4.Demand, software demand, system or value engineers, demand managers
Why study PBA in Dingda TM?
1. It started the first "practical" workshop teaching form in the industry. Both teachers are experienced and practical, and carefully guarantee the teaching effect;
2. Excellent small class, study type learning and case teaching enable alternate theory learning and practical exercise, and you can acquire the certificate and practical experience at the same time;
3. Prepare the past exam paper bank with high reference value for the students, and the passing rate keeps high for years;
4. "Nanny" service in the whole process, help you to complete the application process hand in hand, regular colorful activities to meet your unremitting demand for PDU credits;
5. Issue PDU certificate of 40 hour meeting the 35-hour training certificate required by PBA examination.
Training and Examination Time, Training Cost, Training Place and Number of Trainees
Training Time: 6 days and 2 nights (4 days and 2 nights of practical exercises, 1 day of lectures before examination, 1 day of model examination)
Course arrangement

Time arrangement

Course content

July 3-4

9:00--17:00

Theoretical course

18:00--20:00

Practical exercises

July 17-18

9:00--17:00

Theoretical course

18:00--20:00

Practical exercises

August 14

9:00--17:00

Knowledge lectures

August 15

9:00--17:00

Model examination
Examination Time: September 4, 2021
Training Place :All Seasons Hotel
Training Place :6,500 Yuan/Person (including business analysis practice guide and handouts, 2000 questions, tea break)
PMI-PBA Certification Training Content:
Chapter

Chapter title

Detailed content

Chapter 1

Introduction

The introduction part introduces the purpose of this book, what is business analysis, what is demand, and the main contents of each chapter.

Chapter 2

Needs assessment

(5 tasks)

About the need, that is, why the project should happen, a question at the why level.Group practice: analysis of project's delivery

value from the perspective of business value

Chapter 3

Planning (6 tasks)

Business analysis planning, how to carry out business analysis activities, about how.Group practice: collect and sort out

current demands, and explore and plan potential demands

Chapter 4

Analysis (8 tasks)

The core process of demand management, what is demand elicitation and analysis, talking about "What" from the perspective of deliverables and problem solving.Group practice: Specification and modeling of demands

Chapter 5

Tracking and supervision (5 tasks)

Tracking and supervision throughout demands management.

Group practice: Demand Review, demand decomposition and demand tracking

Chapter 6

Evaluation

(4tasks)

Solution evaluation: how to think, how to evaluate, and what to evaluate, until the solution is passed and replaced.

Group practice: develop and evaluate "acceptance test plan" for demands
Certification Examination requirements:
Received PMI REP agile project management training and obtained 35PDU.
We prefer you with:
Over 7,500 hours of project management experience in 5 years or with PMP® or PGMP® certification;
In addition to general project management experience, the project teams involved in the past three years have adopted 4,500 hours of agile methods.
Introduction of Lecturer:
Mr. Wang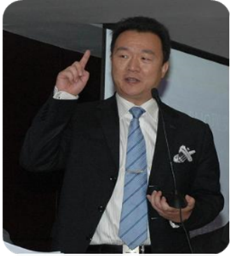 19 years of working experience, expert in product R&D management project management, well-known lecturer consultant in the industry
Member of Expert Committee of China Software Industry Association (CSPIN)
NPDP, CSM, CSL, CBAP, PMP and other certifications, the Six Sigma Black Belts
One of the seven winners of 2014 "Man of the Year in China Software Engineering" of China Software Industry Association
Producer of the 1st session of China Software Industry Summit (TID), executive chairman of the 3rd and 4th sessions
Founder of " Dynamic Process Design (DPD)"